We started shooting today at 3pm. I say shooting but for anyone that knows the industry that usually means we sat around blocking and getting ready for a few hours while everything got set up. Excited to be back on a set and see this idea become a more solid project.

I should start out sharing how this came about. AJ came into my work about a year ago. During the visit we talked about film. At one point i mentioned a project that ​was something I was looking for a team to work on. The story struck him and before he left he asked me to exchange numbers. He wanted to see if I could help him on a project.

We meet about a month or so later. We talked about our histories in the industries and projects we wanted/are working on. He asked me if I would be willing to trade some work for possibly working on my project. We talked for two or three hours. He was really excited about my project. It was funny because when I first told him about it, I said it was a Zombie film. His face tried to stay composed and struggled to do so. I do believe there was an audible sad release of breath. As I went deeper into the story his eyes lit up and he started to smile. By the end he trying not to blurt out ideas.

For the next two to three months we meet and tooled the script. It was a great collaboration and we feed off each others excitement about the story. For me it was the start of seeing the short story I had written over 9 years ago.

Welcome to the start of a film that I believe is something special.
Powered by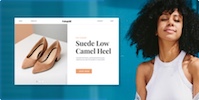 Create your own unique website with customizable templates.